I'm writing this on Monday - we leave on Sunday, six days away. I admit I am having occasional waves of nervousness come over me. I'm not worried about any particular aspect of our trip, I just have some free-floating anxiety that crops up a few times a day. I am going to pretend that is normal and not tied to the fact that we leave on the 100th anniversary of the Titanic sinking.
Here are our two big rides from the past couple weeks:
April 6, 27.28 miles, avg. 11.1, 627' climbing
We had all of our panniers on, front and rear. Our bikes looked like this: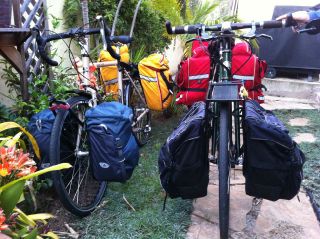 We hadn't ridden for a week, and the bikes didn't seem that heavy. I think my muscles were able to lay down a lot of strong fibers during the week off. I told Jay that maybe we should rethink our riding schedule, and instead of riding six days with one day off, just ride one day with six days off. It seems like we'd end up being stronger that way...
We left from our house, stopped for breakfast, went to the coast, and then headed north a bit, then turned around. This ride was the inauguration of my trip mascot, Tigger:


It's a cycling tradition to have a stuffed animal or icon of some type for a big adventure. Ideally, it's something you've found on the road or otherwise come across, rather than something you buy. Jay found a plastic aquarium seahorse in our backyard a few weeks ago and has decided that will be his companion. He rubber-banded it to his front rack. I went to the Disney store last week and bought Tigger. I figured it would be extremely difficult for me to happen upon a Tigger, so I had to buy it. I chose Tigger for two reasons: (1) He will counteract Jay's Eeyore-like tendencies, and (2) He will remind me of our pet, Orange Kitty, whom I love a great deal and will miss tremendously. I'm hoping that, as I'm going up a hill or into a headwind, I will look down and see Tigger on my head tube and remind myself to look on the bright side of things just like Tigger would do.
Share your comments
---
March 31, 40.24 miles, avg 13.4, 971' climbing
We drove our bikes to Solana Beach , then headed up the coast for 90 minutes or so and came back. Our bikes were unloaded so we went pretty fast with minimal effort. We came up on two bike accidents, though, which wasn't good. They didn't look too serious, phew! The waves were huge along some parts of the coast and it was beautiful weather. I was trying to sear the image onto my retinas, because I know we'll be missing that scenery next week when we're in the desert. San Diego sure is a great place to live.
Share your comments
---
Well, we leave in less than three weeks. Yikes! It's getting close. We didn't get any rides in last weekend because it rained pretty much all Saturday and Sunday. Everyone I know who is training for something was like "Aren't you so happy it RAINED?!" It was nice to have an excuse to be a slug and just do stuff around the house that needed tending. Here's what I've done since I last posted.
March 25, 30.98 miles, 9.9 mph avg., 1,402' climbing
Jay and I rode with loaded front and rear panniers from our house to the top of Mt. Soledad and back. There was a storm coming in so we had a nice tailwind on the way out but that meant a headwind coming home. Hoo boy, our bikes are HEAVY. Especially Jay's. Here's a shot from the top of Mt. Soledad looking south. The horizontal line kind of near Jay's head is the Mission Beach jetty - we leave from Dog Beach, which is just above the line.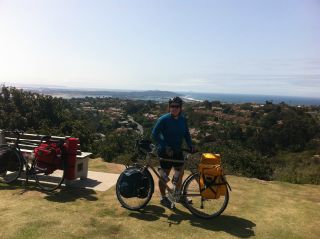 We stopped to use the restroom once we got back to Mission Bay Park. There were tons of people flying kites, which isn't exactly what you want to see when you're riding your bike into this wind. We were tired when we got home but felt pretty good about the ride. I didn't weigh my panniers so I'm not sure how much I was carrying. It kind of doesn't matter at this point….


---
March 24, 34.71 miles, 12.5 mph avg., 633' climbing
We left from our house with rear panniers, headed south, then along a new bike path around San Diego Bay, and up to Coronado. We were really pushing it for about an hour to make the Coronado Ferry departure. We made it with six minutes to spare. The Ferry is a fun way to get from Coronado back to downtown and tons of people use it with their bikes. Once back, we slogged up the hill and then home. This was a pretty nice ride today; cool weather, a bit overcast.
---
March 23, 14.46 miles, 11.3 mph avg, 323' climbing
This was our first ride in a week due to last weekend's storm. Jay had put my bike in the shop for tune up and he sent his rear wheel in to be repacked (or something) so this was the first time we had our bikes back in one piece. We just meandered over to Balboa Park then into Mission Hills then home. Super easy ride and fun.
---
March 16, 12.61 miles, 11.7 mph avg., 365' climbing
I just went out for an easy spin by myself. No big deal.
---
March 12, 19.27 miles, 13.3 mph avg., 139' climbing
I was supposed to do a 35 minute warm up and then an hour of muscular endurance effort (going around in circles at Fiesta Island) but I got bored and packed it in early. We are both getting tired of the scenery around here and are eager to get started on our trip.
---
March 11, 19.64 miles, 11.2 avg., 554' climbing
We leave five weeks from today. I was SUPPOSED to go up Mt. Soledad twice today, but due to the hour of sleep I missed because of the time change and the Orange Kitty crowding me, I was all "screw that." So we rode a mile to breakfast, then headed into downtown, over to Mission Bay (where we ran into Amy, Elisabeth's friend from work), and then up the Presidio hill into Mission Hills, and home. We pushed it a little bit but didn't kill ourselves. Nice!
---
March 10, 39.96 miles, 11.1 avg., 1,784' climbing
Today we decided to head down Fairmount to meet up with the bike route that we'll be taking out of San Diego, and then do a trial run of the first few miles. The Fairmount hill can be a bit treacherous - there's a lot of entry points for traffic - and we encountered some jerk motorists who wouldn't let us over to the shoulder. Then some people passed us too close, so by the time we got all the way down the hill we were a bit on edge. Nothing like a gradual uphill slog with the day heating up to calm your nerves. The official route goes through Santee, Lakeside, up to Alpine, then Pine Valley, etc. You have to get over a 4,000 ft mountain to get out of San Diego County.
As soon as you get into Santee, you can tell that motorists are not bike friendly. That, coupled with the fact that my sisters and I grew up in Santee in the late 1970's and have plenty of unfond memories, and my heroics in my big chain ring the day before kind of burned up my legs, made me a bit Eeyore-like. We had gotten through Santee and came down a nice little swooping curve when I saw some ostriches behind a fence! They were at an egg farm and we're just sitting there. They look prehistoric, especially their feet.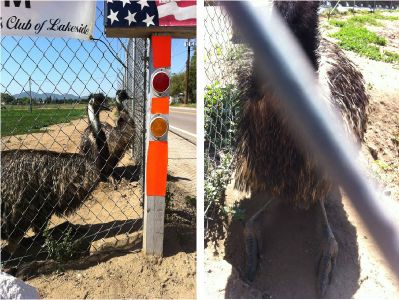 They seemed to be in a bad mood but seeing them cheered me. We pushed on, heading east and gradually climbing. We saw signs on streetlight posts that read something like "Stealing Wire Can Hurt You," which we took as a warning to methamphetamine addicts who try to rip the copper wiring out of streetlights to sell for scrap. Until recently, Lakeside was the meth capital of the U.S. Every town needs a claim to fame.
We got to the intersection of Los Coches Road and Interstate 8. We had gone about 20 miles and it was HOT and hilly, so we pulled into a 7-11 and bought a Gatorade (cucumber lime flavor, which is quite delectable), a smoked turkey sandwich, and some potato chips to split. That was the best turkey sandwich ever! Being fortified, we headed home. Into a headwind, UGH. The good thing about a headwind, though, is it does cool you, which is nice when it's hot out. We just kept slogging home (having to pedal downhill because the headwind took away some of the momentum) and started up the last hill (Fairmount) to home. Jay was ahead of me and was speeding down a little downhill portion. I saw something on the curb that didn't look quite right. As I got closer, I saw it was a TURTLE!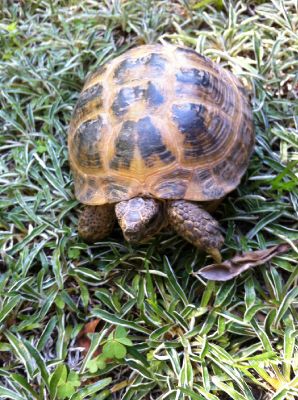 I called out for Jay to stop and picked up the turtle to show him, so he turned around. We called our friend Justin who lives across the street and knows about these things, so he said to bring it home and he'd meet us there later. I put him in the top pouch of my pannier and Jay rode behind me the rest of the way home to make sure he didn't claw himself out. I guess he got bike-sick because he poo'd: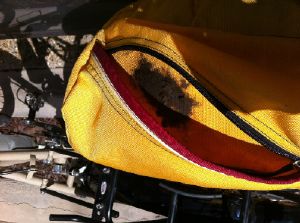 (Not to worry, Jay cleaned that up and now you can't even tell a turtle's been in there.) Justin came over to get the turtle. We discussed names. I told Justin we found him just north of the Montezuma Road off ramp, so Justin said "Maybe I'll call him Monty." But then I said, "Well, he was sitting on the curb, so I think you should call him Kirby." Not sure what Justin's decided.
If you had started bike touring on this day, you might not have liked it because it was hot, hilly, and motorists were not so nice. But when else would you have run across emus and rescued a Russian Tortoise? Hmmm? So that totally made it worth it.
---
We've had some funny things happen on the latest rides (all of which have been with our rear panniers on):
March 9, 26.83 miles, 11.6 avg., 837' climbing
March 8, 25.77 miles, 13.5 avg. (just another Muscular Endurance slog around Fiesta Island)
Jay had today off (yay!). He's supposed to have every other Friday off but he's been working a lot of overtime, so today was actually his first Friday off this year. We had gotten an email that a Dutch cyclist was taking off from Dog Beach (our starting point too) to head to Texas, so we started out to ride down and see him. Jay drove with his bike about three blocks to leave his truck for service. While I was waiting for him to finish, I heard a crash and looked up to see that a car had tried to turn across traffic into the service station where Jay was, but turned into another car instead. That's a crap way to start the day! It didn't look like anyone was hurt, just annoyed, so Jay got on his bike and we high-tailed it out of there.
It was a beautiful day for a bike ride. Sunny but not too warm, not too windy. We didn't run into the Dutch guy but slogged up the hills in Ocean Beach toward the Cabrillo lighthouse, then headed back home down Canon and the Harbor Drive bike path. I was feeling pretty strong so I stayed in my toughest gears all the way home. If you started out bike touring today, you would become a fan instantly.
---
As I write this, we leave in a little less than six weeks. My coach (Jesse Eisner) thinks the time off around my birthday helped make me stronger (your muscles repair and strengthen when you're NOT using them). I definitely feel like I'm getting in shape for the trip. The day we did all the climbing (February 26), I had 38 pounds of gear on my bike. I had packed quite a bit of extra stuff to try to weight down my bike and boy, was it heavy. I will only have about 30-35 pounds when we start, so the bike will be a little lighter on our trip. Phew!
With my 50th birthday a couple weeks ago, our riding was a little spotty, but here's what we've done since I last posted:
March 4, 21.89 miles, avg. 12.0, 751' climbing (over to Pt. Loma and back with Jay)
---
March 3, 26.02 miles, avg. 12.1, 614' climbing (out to the coast and back with rear panniers)
---
March 2, 26.62 miles, avg. 9.0, 2,423' climbing (three trips up Mt. Soledad with rear panniers, ugh)
---
March 1, 25.68 miles, avg. 13.6, 97' climbing (muscular endurance effort at Fiesta Island with panniers)
---
February 27, 10.76 miles, avg. 10.5, 22' climbing (a nice little recovery ride)
---
February 26, 41.09 miles, avg. 9.3, 3,150' climbing (the biggest slog so far, with all four panniers on our bikes)
---
February 25, 39.08 miles, avg. 11.4, 1,639' climbing (another slog, this time with Jay, with rear panniers)
---
February 24, 50.24 miles, avg. 11.4, 1,957' climbing (a real slog by myself from home to Del Mar and back with my rear panniers)
---
February 21, 5.61 miles, avg. 14.4, 22' climbing (commute to work because my car was in the shop)
---
February 20, 23.03 miles, avg. 12.4, 584' climbing (a quick trip on the Lightspeed with my coach to the scene of my accident last year)
---
February 19, 14.16 miles, avg. 12.3. 534' climbing (to downtown for breakfast and back)
---
February 17, 15.35 miles, avg. 11.9, 441' climbing (a little jaunt around the 'hood)
---
February 11, 37.29 miles, avg 12.4 mph, 1,234' climbing
I know it's been a while since I posted anything, but I was starting to bore MYSELF so I can only imagine what those of you without a vested interest in our training were thinking. Last weekend I was by myself on both rides. On Friday I did Soledad twice with 20 pounds of gear, and had the same load on Sunday when I went up and down various roads in Florida Canyon five times. Then I had four days off, yay! This weekend, Jay and I rode together with no gear on our bikes (hence the higher average speed). On Friday we rode up the coast for a bit then came home. Yesterday we rode toward UCSD but then headed east and along Miramar Road, which is a pretty good road to ride on headed east - it's on the northern edge of the Marine Corps air base so the traffic is vey controlled. I've been having a lot of problems with my bike seat AGAIN, so I think I will take it to the bike shop for a professional fitting this week. I was supposed to ride today but my muscles are sore from the new position of the bike seat and the weather is intermittent squalls, so I'm staying off the bike.
We leave nine weeks from today! We're getting excited and nervous. I know we'll be ready but there's still a lot to do…
---
February 10, 44.15 miles, avg 12.5 mph, 1,618' climbing
---
February 5, 22.06 miles, avg 11.0 mph, 1,154' climbing
---
February 3, 22.36 miles, avg 11.4 mph, 1,576' climbing
---
January 29, 50.04 miles, avg 12.9 mph, 727' climbing
I went to the website for my saddle manufacturer today and, according to them, my saddle is too far forward, so Jay moved it back for me before we started. We set off from home and went south to Imperial Beach (taking Jay's route to work, which is actually quite nice), then up a bike path to Coronado , then turned around and came back. Despite Jay moving my saddle, I was in real pain pretty much the entire ride. Plus, when we were only at mile 3 or so, a bee flew onto my lip while we were headed down 30th Street, and instead of just bouncing off, it stayed on my lip and stung me. Stupid bee. Ye-ow. We went to the Jack in the Box at Upas and got some ice for it and that helped, but it was super stingy and hurty for about half an hour.
The ride wouldn't have been bad except I was in so much pain from the saddle. It was another great day for a bike ride. I had to keep standing up on the pedals to get some relief. Coming back, once we turned off Harbor Drive to head over toward Pershing, I had to get off my bike and squat just to stretch out my groin. We had only one hill to go up (Pershing Avenue), so that was good. As soon as we got home I put an ice wrap in my netherlands and that helped, but I am REALLY sore. Waaaah. I was super brave today. I have to figure out this saddle thing, and pronto.
---
January 28, 66.22 miles, avg. 12.1 mph, 2,198' climbing
This was a beautiful day for a bike ride in San Diego! We got a late start (9:00 a.m.) and headed west from our house, then went up the coast to south Carlsbad and came back the same way. So that means we had a view of the shoreline for a lot of our ride, which is always a treat. We were by far not the only people out, plus the Farmers Insurance golf tournament was going on, so the roads were a bit hectic. My hip was feeling pretty great, thanks to Nathan Briner (www.truebalancedynamics.com), whom I saw yesterday for a treatment. He was able, in just a few minutes, to have my hip more open than it's been since the accident last year. It was truly remarkable. Plus he showed me a technique I can do on myself to eliminate thumb pain from prolonged braking. Super neato!
Anyway, it was a glorious day and I had had three days off the bike due to my hip acting up (probably from all the climbing we've been doing with weight on our bikes). So I thought the ride would be a piece of cake, but in about the second hour I started having a groinal disturbance from my saddle. I thought I was finally used to my new saddle. Waah! Things got better once we turned around and had a tailwind. We had been heading south for just 10 miles or so, when our neighbor, Mike, caught up to us on his bike! He rides in north county almost every weekend. He rides a fast bike and is a pretty fast rider, but he rode with us for a little while and then took our picture in front of the Cardiff Kook statue: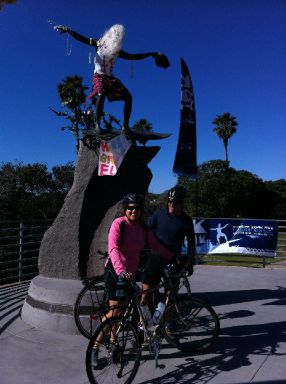 The statue was dressed up as a cheerleader, I guess. When it's not dressed up, it's a young boy surfing, but the local surfing community views it as effeminate and fake, so people take turns putting different outfits on it. A little bit further south, we stopped to watch the kiteboarders:


There were a bunch of them out there, it looked like they were having fun. We kept heading home and finally got back. We were riding for a little about five and a half hours, but with all the breaks we took (many so I could give the hoohah a break), we were out there for seven hours. A loooong day.
---
January 24, 25.94 miles, avg. 13.4 mph
Another day at Fiesta Island. Went out in the afternoon this time, because I took Orange Kitty to the vet this morning to check his broken toe. He was cleared to go outside, and boy was he happy about that. One thing about riding in the afternoon, it is WINDY. Fiesta Island is the shape of a paramecium, and I'm no meteorologist but I don't get how I was pedaling into a headwind on three sides of an oval. So it was a bit brutal, but there were a lot of squirrels out so that was good.
---
January 22, 30.13 miles, avg 10.8 mph, max 26.7, 1678' climbing
Egad. I was suuuuper tired today and Jay was too. I went to bed with a headache - not sure if it was from the martini I had with dinner or something else. I took two Tylenol PMs to help me sleep, which mostly worked except when Orange Kitty decided he needed petting. We ALMOST didn't go out today, but since we missed yesterday because of the rain, we decided to just try. Usually I like to be like Yoda, who says "Do or do not. There is no try." But I just wasn't into it today, so I wasn't making any promises. We drove out to Rancho San Diego in east county and set out for some climbing.
We headed down Willow Glen and then started up Harbison Canyon, which wasn't too bad at the beginning. After the ride, Jay said I did well on the hills - when he was in his lowest gear, I still had two or three left. He had more weight on his bike (front and rear panniers), but I had only rear panniers. They seemed pretty heavy though. There are some steep spots on that road, but I knew things were going to get worse before they got worse. We had ridden down this road but this was our first time climbing it. There were some spots along the road that were not unpretty, but the hodgepodge of houses out there made me think that anyone can get an architect's license. What kind of person designs a Cape Cod house to sit among scrub oaks and boulders? Here's Jay setting out after we had taken a break for a snack: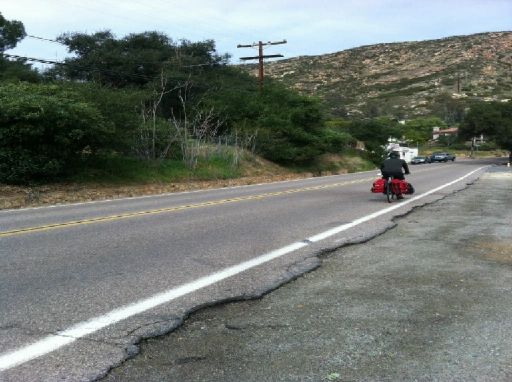 I kind of remembered that once we made it to Arnold Way, it wasn't too much longer until we got up to Alpine, where we could turn and eventually go downhill on Dehesa. WRONG! Of course the road is a lot "shorter" going downhill; you spend way less time on it than when you go uphill. We kept climbing and climbing. I felt like I was in the movie "Groundhog Day." It seemed like we were doing the identical 6% incline up to a 7% dogleg left over and over and over. FINALLY we got to Tavern Road, where we turned right and did a little more climbing. We stopped to try to pet this horse: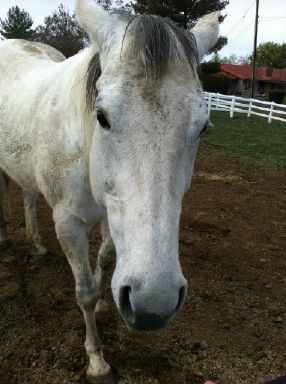 After a few minutes of trying to entice him over, Jay noticed that the fence was electrified on the horse's side, so that explained the horse not coming to the railing. Jay got to pet the horse's nose and feel hot horse breath on his fingers. Neato! If we had been in a car, that wouldn't have happened.
We bombed down Dehesa Grade and had about 45 minutes left to get to the car. We just plugged along and finally made it back. We did better and went farther than we thought we were going to, so it turned out to be a pretty good ride.
---
January 20, 30.55 miles, avg 10.3 mph, max speed 37.4
Today starts a four-day block of training. If it's Friday, I must be doing repeats of Mt. Soledad. Warm up, then go up and down three times, then finish with a couple sprints. I was hoping to see that my climbing had gotten stronger from last week's efforts, but it was hard to tell because I added weight to my panniers (for a total of 20 pounds). I didn't feel as hopeless when I started as I did last week, so at least my mental approach was better. The first time up I got buzzed by two motorcycle cops who pulled over right ahead of me to set up radar to catch speeders. Because I was going only 5 mph, I didn't feel in danger of getting a ticket. I know this route up the mountain cold now, so there were no surprises and I had a great time on the downhill.
On the second lap up, one of the cops aimed his radar gun at me, so I said "Am I going too fast?" "No, you're good. I'll let you know," and then he laughed. Pretty much nothing else happened the rest of the way up. At the top, I turned around and started the descent. I like doing an out-and-back hill route, because it's fun on the way downhill to look at the uphill side of the road you just climbed and be all "Oh hey bitch, who's a tough little hill now, hmmm? Got anything to say? Didn't think so" as you fly past at 30 mph. I was feeling pretty strong and had just one lap to go.
As I've written before, this route up the hill is front-loaded. Half the elevation gain comes in the first third of the distance. I had just finished the toughest part and was looking forward to where there's a flattish part before the next big rise, when I noticed a rider behind me. I moved over to the right, out of his way. He came up beside me and asked "Are you commuting or touring?". He was about 70, very tall and lean, and seemed pretty experienced. He wasn't out of breath at all, despite the hill. I said "I'm practicing for touring. My husband and I are going across the country in April."
"Wow," he said, "that sounds like fun. Who are you going with?"
"So far, it's just my husband and me. You can come if you want!" I could see the big hill looming and was getting kind of irritated. I had wanted to relax and recover on this flat part, but because of Mr. Talky I had to act like I was tough and speedy.
"Ohhh, that'd be fun, but I have things to do."
"Okay. I know you're gonna drop me on this hill, so it was nice talking to you."
"No, I'll go slow so we can talk. What route are you taking?" I about died. I knew I couldn't maintain my current speed on the hill; if I tried I'd keel over and I couldn't count on him to call 911. Why was he still talking to me?! I had started the hill at this point so I downshifted and tried not to gasp as I answered him.
"We're starting at Dog Beach. Then across Arizona. Then New Mexico. Then diagonally up to Pueblo. Then straight across to D.C." Whew, I had made it up the hill. And at a record pace for me! I was seeing black spots in my vision, but I was upright and still moving.
"Oh, D.C., huh? Isn't that the RAAM route? That's how I'd go if I was going. I'd average 100 miles a day and get it done in less than a month. I'd carry just some clothes and sleep in hotels. It's easier that way. Of course, me, I love hills. I go out to Alpine every Monday, that's 70 miles and 6000' of climbing. That's what I love, climbing. With climbing, it's all about the weight. How much is on you and how much you're carrying." I could tell this guy meant well, but he was starting to annoy. He was further proof of my theory that 80% of male cyclists think they know more about riding than 100% of female cyclists. This guy had told me he had never toured before, so he had to expound on his favorite topic, climbing. Did he think that was a news flash, that climbing is about weight? Thankfully, he got bored and said goodbye about half a mile from the top. I saw him start his descent as I was only a few yards from the top; we both waved and that was it. I zoomed down the hill and back to the car (getting in the two little assigned sprints). Even though the guy was annoying, he did show me that I can push it a bit harder on the hills and not die. So I was grateful for that.
---
January 18, 11.86 miles, avg. 11.4 mph
Yay, today was a recovery ride. "Recovery ride" to me is what a regular person would do if she said "I'm gonna go ride my bike." I just had to go ride my bike for an hour, which is super fun. It was extremely cold, though (45 degrees!), so I wore my heaviest jersey, tights, long-fingered gloves, and an ear gaiter. Unless conditions are perfect, I am always a bit whiny at the start and today it took about 20 minutes for every body part to get warm. I did two little errands and just rode around; it was a nice, relaxing ride.
When I got home, I had bike-related chores to do. Jay is good about maintaining and cleaning our bikes; I do all the other stuff like wash clothes (all of which have to air-dry), go shopping to replenish snacks, and wash the water bottles. Usually, I have to go get Jay's off his bike because he doesn't even bring them in after a ride. I think Jay would wash his own water bottle only when he saw a tadpole in it.
---
January 16, 23.92 miles, avg. 12.6 mph
Today's assignment was to warm up for 35 minutes and then do 60 minutes at endurance pace, ending with a few minutes warm-down and a couple sprints. So that meant another trip to Fiesta Island. It was threatening rain and 51 degrees when I started, so there weren't a lot of other people on the island. At one point, the clouds broke where I was, but you could see a squall bearing down: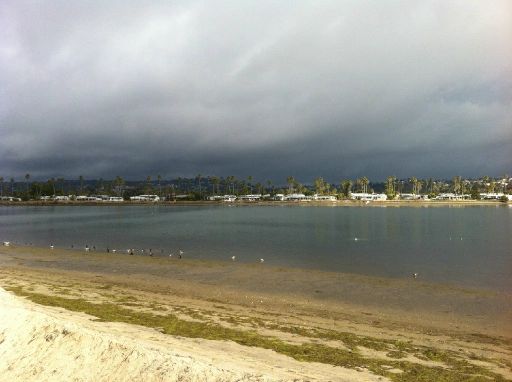 I got rained on a little bit but because I'm so studly I persevered. There's a lot to be said for living in San Diego and having a place like Fiesta Island to ride. I like watching the contrails left on the water's surface after the ducks paddle by. Once in a while a fish jumps out of the water - I imagine it's yelling "yee hah!" in its head. There are always people taking their dogs here for exercise. Labradors never tire of running into the water to chase balls.
People also bring their horses here in trailers, which I don't understand. Do they think their horses want to walk in the sand? And why don't horse owners clean up after their animals? Apparently, they think horse poo is like cat poo - you don't have to pick it up. A few days last summer there was a mound of horse poo right beside the road, and every time I rode past it I would stir up a bunch of flies. ICK.
Anyway, I finished the assignment but didn't quite hit my target heart rate numbers. I was tired from all the climbing on the weekend, but at least I got out there. I'm glad tomorrow's a rest day.
---
January 15, 21.07 miles, avg. 9.7 mph, 1587' climbing
Egad, I was tired today. Orange Kitty got a new bandage on Friday and he's been worrying over it ever since, so now he's licked all the fur off his knee. I had to be vigilant last night - the cat sleeps with us and he kept licking and licking, so I had to distract him. That made for fitful sleep.
My assignment today was to do two hours (assignments are given in hours, not miles) and climb Mt. Soledad twice. I had 16 pounds in my panniers and Jay had his front panniers on his bike. Having just climbed Mt. Soledad four times on Friday, I wasn't looking forward to this ride at all. After a 20-minute warm up, Jay and I started up the hill and I could tell I was going to need my lowest gear today. I did go into it a couple times but didn't have to stay there. All the climbing I've done since Friday has exhausted my not-inconsiderable glute muscles. We slogged through two trips up and down (I was really weary on the second lap up) and were able to complete the two little sprints at the end, to finish the assignment.
Our trip starts 13 weeks from today. I guess if I keep training like this, I'll be ready. Or dead!
---
January 14, 29.58 miles, avg. 9.7 mph, 2435' climbing
Another day of climbing, yippee! Jay and I did the first part of the route I did last Saturday, but with fully-loaded panniers. I had 25 pounds of gear and Jay had 37. That's about 10 pounds less than we'll have on the trip. We headed east up the big hills into Santee, then did the Highway 52 bike path, turned around, and came home. The weather was coolish so it was nice for riding. After the halfway point, a rider caught us as were headed up the 52 back into Santee. He rode alongside Jay and asked "Where does this go, exactly?" Now, that is a weird question. The bike path along Highway 52 isn't some place you would get to by accident. Turns out, he was visiting from Minneapolis and had started out on his bike from downtown! He just got on his bike that morning and headed out for a ride. So, by the time he met up with us, he had probably ridden about 20 miles already, with another 20 or so to get back to downtown. What a freak!
I was dreading the climb up the big hill out of Santee (but not dreading leaving Santee). As with most things in life, the hill turned out to be not that bad and not near as bad as I thought it was going to be. The road was recently paved so it was in good condition. Traffic was light. The bike lane was wide. The hill was 1.1 miles long. Here are the views coming and going from near the top: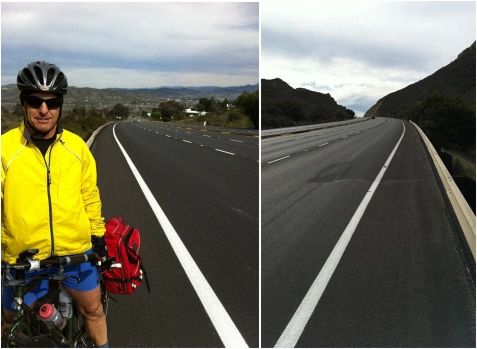 Close to home, we went up Aldine to get up to the mesa where we live. Aldine had been closed for "slope restoration" work until January 9, so this was the first time we'd been up it. It starts out super steep and I had to use my lowest gear for the first time all day, but just for a short while, then I clicked into a bigger gear. More climbing tomorrow, I can hardly wait!
---
January 13, 37.63 miles, avg. 9.9 mph, 3126' climbing
Today my assignment was to warm up, then climb Mt. Soledad four times with my panniers half full. So I put 16 pounds of phone books in my bags and started with the inner loop of Fiesta Island (about 3 miles) and rode another couple miles to the base of the hill, and started up. The first time wasn't too bad; I discovered that the initial .9 miles gets you up to 300'; the top of the mountain is at about 800', so the route I was on is definitely front-loaded with climbing. I rode around the monument at the top and headed back down without stopping. At the base, I got off my bike to press the "walk" signal to cross the traffic and make a U-Turn and fished a snack out of my back to stick in the pocket of my jersey.
The second time up, I was feeling stronger than the first time up. My coach, Jesse Eisner, told me to push it a little harder on each successive trip, so I did. My average heart rate on this lap was five beats higher than the first lap. I was so happy to make it up that I really let it fly on the downhill; my max speed on this trip was almost four miles faster than the Lap No. 1.
The third time up, I was pretty tired. The trips up were taking me about 32 minutes and the downhills, about 10 minutes. Ten minutes wasn't enough of a rest for me. I was really exhausted by the 300' mark on this trip. I just kept pushing, though, and made it up in about 35 minutes and then flew back down.
The fourth time up, I was exhausted. My glutes were sore and tired heading back up the hill and I had to keep encouraging myself to just keep pedaling. Like Dori the tang told Nemo in "Finding Nemo," just keep swimming, just keep swimming. I was overtaken by three road racer-types who all said good morning to me, so that was nice. I was really uncomfortable at times but I never had to use my lowest gear and I never stopped on the uphills. Finally at the top, I sailed back downhill, where I had three miles to go to back to the car. I was beat, but felt better after I ate and stretched.
---
January 12, 28.23 miles, avg. 15.0 mph
Today's assignment was another 80 minute effort at Fiesta Island. Of course it was a slog, going around in a circle (well, really, it's an oblong) five times, but the weather was nice and it wasn't crowded. Plus, there were some rowing (sculling?) teams out practicing so they were fun to watch. I didn't have panniers on my bike so I felt somewhat speedy, which is rare for me. I pretty much hit all my target numbers (cadence, heart rate, perceived exertion, blah blah blah), so I felt pretty happy with myself when I was done. Jay got up early today and rode his bike to work (as he did Monday and Tuesday); if he ever has anything he wants to report I'll let you know.
---
January 9, 13.10 miles, avg 10.8 mph
Today was an active rest day, so I just put some more weight in the panniers and went out for a spin. Toward the middle of the ride, I decided to do something useful so I stopped by the health food store to get some steel cut oats. Oatmeal is the go-to breakfast for cyclists. Here's the best way to make it: Right before you go to bed, put 1 c steel cut oats, 2 c dried fruit (cranberries, cherries, and blueberries are all quite nice) and 4 c water into a slow cooker. Stir in ½ c cream or half-and-half. Turn to "low" and cook for 8-9 hours. Wake up to really great oatmeal. If you're going out for a hard ride, stir some nut butter into your bowl. The extra oatmeal will keep in the refrigerator for a few days and reheats in the microwave without a problem.
Jay rode his bike to work today, so he got in about 23 miles. One of these days I'll make him post about his commute. I have the next two days off, YAY! This was a short week for me (only 88 miles because I missed Friday's workout and cut Saturday's short due to Orange Kitty's injury), but I'm still looking forward to two days off the bike.
---
January 8, 26.16 miles, avg 13.9 mph
Today was another slog Muscular Endurance effort around Fiesta Island. This time I had to do 80 minutes, which is pretty much my usual stint. It was 46 degrees when I started, and suuuuper foggy. It stayed cool throughout the entire workout. I tested out my new midweight wool socks; I'm happy to report that my feet stayed warm during the whole ride. I had 18 pounds in my panniers. As I was on my fourth lap, I got passed for the third time by three young guys wearing full kits (cycling lingo for a jersey, shorts, and socks that are all printed with a team logo and sponsors' names) doing some drills on road bikes. To give you some perspective on the weight difference between their bikes and mine, my touring bike weighs 30 pounds without anything on it. When it's loaded, it's quite a tank. For professional bike racers, the bikes have to weigh a minimum of 6.8 kilos (a tad less than 15 pounds). A lot of recreational team riders aspire to get their bikes that light. So that means that one of those guys' bikes, disassembled, would weigh less than what I was carrying in my panniers.
---
January 7, 2012, 27.97 miles, avg 10.7, 1,873' climbing
Today we learned the truth of the adage "When your cat has his health, you have everything." I came home from work Thursday and noticed that Zeus (or, as I call him, Orange Kitty) was shaking his head and pawing at his ear. I hoped a miracle would occur overnight, but sadly, it did not, so I made an appointment for him at the vet Friday morning (which meant I missed my workout yesterday). The vet diagnosed an ear infection and took him in the back to irrigate his ear. We got home around 9:45, OK ate some food and then went to sleep. Jay got home around 4:45 and OK woke up to greet him. OK couldn't put any weight on his right rear leg and was yowling (normally, he's very nonyowly), so I called the vet to see if they had given him an injection that would make his leg sore. They said to bring him in, which I did. Turns out, he broke his toe at the morning visit by getting it caught in the grid by the sink where they washed his ear out. He has a comminuted fracture but it's not displaced. The vet bandaged up his leg and gave him painkillers. He looks like this now:


OK normally sleeps with us, but last night no one got a lot of sleep. His ear was bothering him; every once in a while he'd shake his head and spray me with droplets of either pus or water (I'm hoping for water). And, he couldn't get comfortable with the bandage on his leg, so he kept shaking his leg and fussing. The lack of sleep, though, is good training. Today's assignment was to do 3 hours and 40 minutes of mainly hills. Jay stayed home with poor OK and I went out for a ride, with about 23 pounds in my panniers.
It was cloudy and cool this morning, so I wore a long-sleeved shirt, a jacket, long-fingered gloves, wool socks, and cycling leg warmers under my shorts. This ensured the applicability of the 5th Law of Thermodynamics: "The probability of the sun emerging from the clouds at the exact moment a cyclist starts a hill climb is in direct proportion to the amount of clothing worn by the cyclist." Which means, if it's cold out and you dress warmly, the sun will come out right as you're climbing so that you overheat and you have to stop and take off some layers. The converse is also true: if it's cold out but you don't dress warmly because you know you're going to be climbing later, the sun will not come out and you'll freeze on the downhills and the flats. In short: if you prepare for the weather, you'll be screwed, and if you don't prepare for the weather, you'll be screwed.
I headed into east county and up one of the biggest local hills. The sun came out and I had to stop to take off my jacket and long-fingered gloves. At the top (630'), there was this happy sign: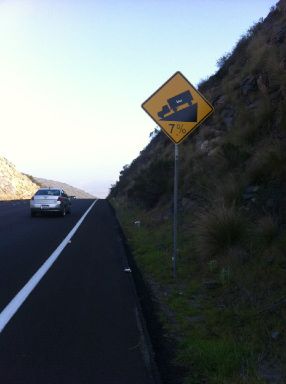 The downhill was a treat. Next, I went up the bike path along Highway 52. The sun was even brighter and hotter now, so I had to stop to take off my leg warmers. This freeway here climbs to 821'; the route is one long (over 2 miles) hill, but the grade isn't too steep. At the top of this hill, I had climbed about 1300' in 13 miles. The bike path ended in Tierrasanta, where I bought some Gatorade and headed home. One fun part of the ride home is going through the bike path along the eastern edge of the parking lot at Qualcomm Stadium. Where they have conveniently left out a Portapotty. YAY!


One thing about bike touring, your bladder gets used to stealth peeing. Any bush or tree or gully can be a restroom. This caused problems after the Lake Michigan ride. When we were done, we had a few days to explore Chicago. As we were walking around, I would be instantly overcome by the urge to pee, as if my bladder was signaling "Look! Over there! Go behind that mailbox!." It takes a while for your bladder to rejoin polite society.
I had one last hill to get home, and that went by pretty easily. I was an hour short of my target time of 3:40, but I had an Orange Kitty to take care of.
---
January 5, 2012, 21.54 miles, avg 13.9 mph, 71' climbing
Yesterday was a rest day. Today was a 60-minute sustained "muscular endurance" effort, which means that, after a 15-minute warm-up, I had to try to keep my heart rate at 80% of its maximum for an hour. Then I back off for 10 minutes, do a 10-second sprint, go easy for 5 minutes, another sprint, then easy for 3 minutes. To be able to complete a sustained effort, I drive my bike to Mission Bay Park and do the ME effort at Fiesta Island. (For non-locals: Fiesta Island is a mostly flat man-made "island" that is designed for runners and cyclists. There's also a fenced dog park, and you could also drive your kayak over and put it in pretty much wherever you want. It's part of San Diego's aquatic coastal playground.) I did my warm-up and stopped to take a picture of it:


FI is in the background - as you can see, it's pretty flat. One lap is about four miles. I listen to my iPod (using only one earphone in the ear not facing traffic - safety first!) and just gut it out, going around and around and around. Today I had 27 pounds in my panniers, so my bike felt pretty heavy. SLOG!
---
January 3, 2012, 8.94 miles, avg 11.6 mph, 90' climbing
Well, now that the holidays are over it's back to my official training program. Once I was mentally recovered from the concussion last year, I hired a bicycle coach to help me get my endurance back. Left to my own devices, I would just flail. My coach is Jesse Eisner of Crank Cycling in San Diego. He used to race competitively (I think he's going to start racing again this year) but he definitely doesn't try to make everyone he coaches into a racer. He's really good at adjusting his training assignments to the client's goals. If you want to improve your cycling (even if you don't live in San Diego), you should email him: jesse@sandiegocrank.com. Once Jay and I decided to ride across the U.S. , Jesse set up my program to include longer and longer rides, some of which include lots of hills. Luckily, today's assignment was simply to "spin" (noodle around in an easy gear at a high cadence) for 45 minutes. Nooooo problem!
Jay has decided that his training will be to ride his bike back and forth to work (23 miles total) most days. He leaves the house before 6:00 a.m. to get there, shower, and be at work by 7:00. His route to work is mainly downhill, which means it's uphill on the way back. Most afternoons, he will also face a headwind. Ugh.
---
January 2, 2012, 26.30 miles, avg speed 11.6 mph, 1004' climbing
We had a lot of stuff to get done today before work starts tomorrow, so we planned a short ride. To compensate for the distance, Jay put a couple panniers on our bikes with stuff inside to get used to carrying gear. Jay drove us and our bikes to Chula Vista (about 12 miles south of San Diego ) where we parked on a side street, then headed east. Ye-ow, I immediately realized what the manufacturer of my new bike seat meant by stating there's a break-in period. I was feeling pain in areas of the netherlands that I didn't know existed. I guess the three-hour ride yesterday on the new seat was slightly outside the suggested "thirty minutes a day." Our route started uphill, and it was slow-going because I had to keep my bike in an easy gear---putting pressure on the pedals caused significant groin pain. Finally, after eight miles, I couldn't take it anymore and we stopped for Jay to put my old saddle back on.
Things were better then - the road went into the back country by Otay Lake (or is it a reservoir?) with small rolling hills. The water was a beautiful deep blue and the sky was a lighter hue, and you could hear ducks squabbling in the reeds. Here's what that part of the ride looked like: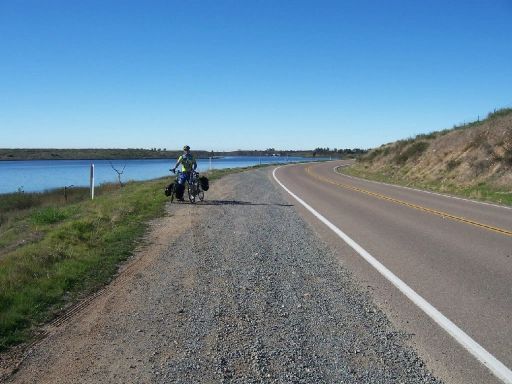 We had planned to go about 30 miles, but we passed a campground so we decided to investigate. One of our weak points is sleeping in a tent, so we will be doing some rides from our house with all our gear to camp some place local, practice sleeping, and then return home the next morning. Jay bought us a Diet Pepsi to split, and after drinking that and having a snack, we decided to just turn around. The ride back to the car was into a slight headwind, but the last five miles were slightly downhill. Yay! I was a bit tired after the ride. When I got home, I weighed my panniers: 21.6 pounds. No wonder my bike felt heavy! I'll be carrying about 35 pounds on our trip, so today's ride told me I need to do a lot more training.
---
January 1, 2012, 30.27 miles, avg speed 11.2 mph, 1335' climbing
Today was bright and sunny in San Diego and already pretty warm when we set out from our house to do a short hill-climbing workout. FYI, we live on a broad mesa at about 410' elevation, so we had to go down the hill and over toward the coast before climbing 800' or so to the top of Mount Soledad, which straddles the border between Pacific Beach and La Jolla. After going less than a mile, I realized my new saddle was a tiny bit too far back, so we stopped at the Post Office for Jay to fix it: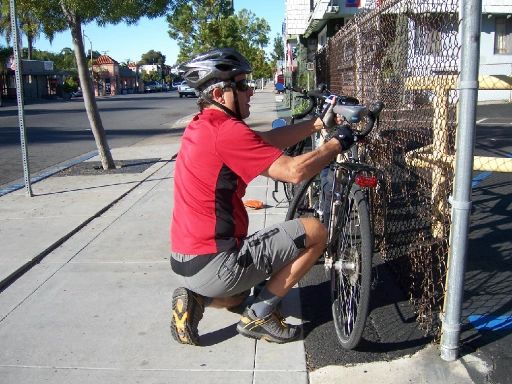 Then we headed out. There are five regular routes up Mount Soledad, we took the easiest (less steep) way. We have friends that go up and down this mountain five or even 10 times in a row, using a different route each time, when they're training seriously for a triathlon or bike ride. That's not us! I've repeated the hill twice in one workout and that was enough for me. On the way we go, you start with a mile-long stretch that is mostly a 6% grade but parts are at 8%. Then the road actually goes downhill for about 5-6 houses, then heads back up fairly steeply. Then it flattens out a bit, then you have a few short steep hills before the final climb (which isn't too bad) at the top. It's three-and-one-half miles and it took us about 25 minutes to get to the top. Once you're there, you can see forever. Today, there was a really neat fog blanket at the coast:
After a snack and some water, we headed downhill. Wahooo! The fastest I've ever gone down a hill is 41 mph. Once when I was going down Mount Soledad, my front tire started to shimmy and that scared me so much I start braking now if I get up around 35 mph. Three-and-a-half miles of downhill, though, is still pretty fun! Then we had to slog home and climb the hill to get home. We went up by the Presidio, which is a super steep hill but not very traveled. Once up, we cycled the nine miles home.
---
December 31, 2011
I've been fighting off a cold for the past few days so we haven't ridden, but Santa brought me a new ISM saddle: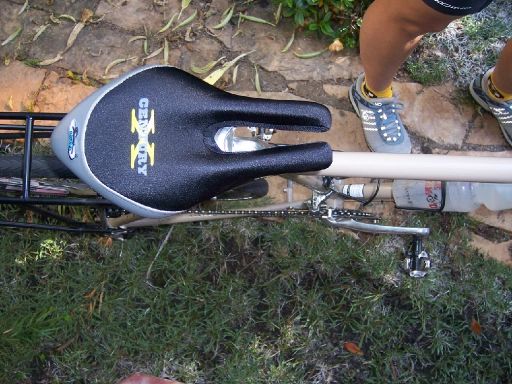 So Jay and I went for a very short ride today for me to try it out. The cutaway on the nose of the saddle is to ensure that the delicate lady bits aren't squashed. The seat is supposed to be very comfortable after the break-in period; I've read that a lot of triathletes use this type of saddle. I'm happy to report that after a 25-minute ride, it seems like it's gonna work.

Happy New Year, everyone!